Register below for your chance to be visible at American Bus Association Marketplace – January 10-15, 2020.
Space is limited to 25 registered delegates and is first come, first served.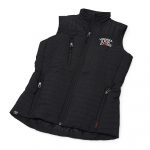 Partnership cost is $250 per person. Fee includes participation in trade show booth, sponsorship recognition on pre-show e-mailer and during ABA Marketplace, a VIFL Vest and opportunity to promote your itineraries at the booth.
Please Note: Deadline to register is Friday, November 8.
Contact Joni Johnson if you have any questions.