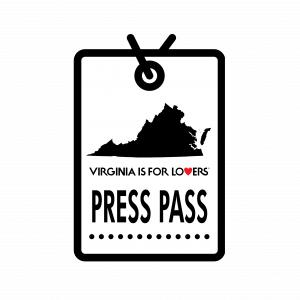 The Virginia is for Lovers Press Pass is a program designed to help Destination Marketing Offices (DMO) bring domestic travel journalists to the Commonwealth of Virginia and to work directly with Virginia Tourism Corporation (VTC) PR staff once approved.
For qualifying applicants, VTC can provide financial assistance for these editorial research trips. (Exact amount to be determined by VTC upon approval; up to a max of $1,000)
How to Secure a Press Pass
Fill out and submit an application
All applications will be received and reviewed on a first-come, first-served basis.
Projects will be reviewed and approved by VTC and approved applicants will be notified by email.

It is at VTC's discretion as to which Press Pass applications are approved, based on alignment with the organization's U.S. earned media strategy, overall marketing goals, and budget. Application does not guarantee approval.
Requirements and Guidelines
Journalist must have a confirmed assignment OR be a freelancer in good standing with a media outlet and have recent editorial placements
Applications must be submitted at least six weeks prior to travel by the journalist.
Domestic journalists only. International journalists will not be considered.
Apply for the Virginia is for Lovers Press Pass here. Password Protected.
To request access to the page,  contact the VTC PR Team.
For more information, contact Andrew Cothern at [email protected].