Reach and Welcome Lesbian, Gay, Bisexual and Transgender Travelers to Virginia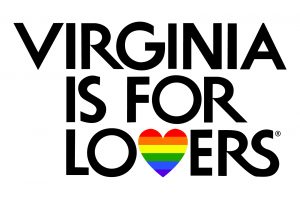 If you are a Virginia tourism business, community, destination or attraction, and want to maximize your tourism potential with LGBTQ+ visitors, below are three new ways to do so. Make certain LGBTQ+ travelers know about your LGBTQ+-friendly lodging, culinary, shopping, history, music, weddings, meetings, and outdoor experiences. Connect LGBTQ+ visitors who want authentic and welcoming Virginia experiences with YOU and your unique, inclusive travel experience you work so hard to create and sustain.
1. Add or Update your free listing here:
https://admin.virginia.org to maximize your presence on Virginia.org, the official State of Virginia Travel and Tourism website reaching over 13 million annually.
» Be sure and select the new LGBTQ+-friendly option when describing your business
2. Download the Virginia LGBTQ+ Tourism Marketing Toolkit to increase your partnership and leveraging opportunities
Click here to download the Virginia LGBT Marketing Toolkit
3. Expand your reach and increase visitation by having multiple listings for lodging, events, dining, group packages and more
* If you need assistance with adding or updating your listings, please contact VTC's Robin Mamunes » [email protected] | 804.545.5545
* If you you'd like more information on general LGBTQ+ marketing efforts, please contact Wirt Confroy » [email protected] | 804.545.5552
4. Submit a request to use the LGBTQ+ Virginia is for Lovers® Logo in your marketing. Click here to request LGBTQ+ Virginia is for Lovers® Logo.
Why market to LGBTQ+ Travelers?
LGBTQ+ travelers travel more, stay longer and spend more money
LGBTQ+ travelers spend an estimated $57 billion in the U.S., annually
Travel more and have the largest disposable income than any niche market
LGBTQ+ consumers make nearly 10% of the U.S. market
Virginia's top travel feeder markets compliment the LGBT travel market, including DC/NOVA, Baltimore and Charlotte with direct flight access from Boston, Atlanta and Chicago
A destination's reputation for being LGBTQ+-friendly is the primary motivator for selection